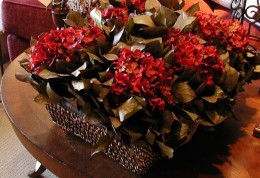 Annapolis Interior Designer STILL Doing Tabletop!!!!
Deadlines are always fun! We are still cogitating on the perfect tabletop to impress all of our loyal followers! Here are some more accessories that we are considering for the story in Annapolis Home Magazine on the three Interior Designers doing a Christmas Tabletop for the Holidays. We still haven't gotten much further. We are considering the Martini glasses with the big chunk of glass at the bottom (they are perfect for your tipsey friends!), or we are still thinking about the Coastal Wine stems (Did you see the Jelly Fish?)
Then we have the centerpiece to select! We have it down to 2 or 3 pieces. The Seasonal Basket of Hydrangeas, the Christmas Gladiola Arrangement in real live water, or the Red Centerpiece bowl.
Decisions, decisions! We just need to DO IT!!!!! We have all of these great pieces and we just need to START!!! It will all come together in the end. We want it to have that Christmas Sparkle, to incorporate our Annapolis point of view; the Chesapeke Cozy angle and to be fun and inviting. I am going to go select a table to set this up and Jennifer, Corey and I are just going to get this done. It is so busy right now, if we wait any longer we will be behind the eight ball. The next time you tune into our blog you will see the results of our brainstorming session!
See you soon! Gina Fitz