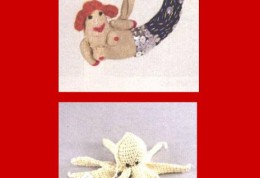 Annapolis Interior Designers Do Tabletops
A wonderful opportunity to demonstrate our design abilities has presented itself! Kymberly Taylor and Robert Haywood from Annapolis Home Magazine have asked Fitzsimmons Design Associates to design a tabletop setting for the Holidays. They are going to have the article in the November 15th Holiday issue! We will be one of three Interior Designers in Annapolis, all with the same goal in mind, to wow the readers!
What should we do? Well, we do have a whole store full of accessories and accents that we can put to use. Details of Design is chock-a-block full of new things since Corey and I got back from the International Home Furnishing Market trip. New merchandise is coming in every day.
In Details we have always presented the Chesapeake Cozy approach to Christmas. Maybe we should follow through in the same vein? The new nautical ornaments this year include jelly fish and mermaids sewn and stuffed with filling in all the right places, if you know what I mean.
Maybe we should start with a centerpiece? I should go and look around the store and see what I can use in the middle of the table and then work outwards from there. But, maybe I should decide what table we are going to use first. This is a little more complicated than I thougt. I do like the Chesapeake angle on this story and I would like to have it bright and cheery for Christmas. Maybe I should add a bit of bling!!!!
Let me bounce this off of Corey and Jennifer and see what they think we should do. I'll get back to you soon, We don't have that much time till the photo shoot.
Gina Fitzsimmons, ASID