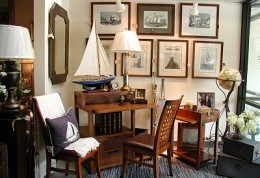 It is almost Boat Show Time in Annapolis! If he is "Going Nautical " on you again, you can create a handsome Den in your home for that special guy in your life, in a small space with our pull out table top desk. It's just perfect for a laptop computer! There are drawers underneath for all of his stuff and a designated place for the computer tower. Add a pull out side table for a printer and you are all set!
At Details, we are showcasing framed original Harper's Weekly Covers. A collection of them grouped together really make a statement wall and focal point. Add a strie rug in all shades of cool water for a punch of color on the floor. Finish off the room with accessories from our showroom and you can have the room finished by the time he finishes his golf game!
Any photos of before and after we will put in our blogspot and we wil feature your project in an upcoming issue.
Don't Forget
Our Annual Tent Sale is on Saturday, September 11th this year.
We are going to have great mark downs on furniture, lamps, rugs, artwork and accessories. We will also have our scratch and dent items. They are pieces that we got special pricing on when they came in slightly defective and were not up to our usual great quality. But, if you are accessorizing a bookcase, just turn the item with the scratch to the back and who will know?
We Will See You There!!!!!!!!!!!!!!!!!!!!!!!!!