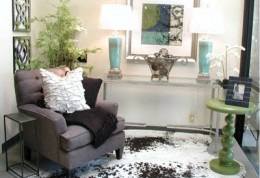 Interior Design in Annapolis, Md. has heated up!
"Not as hot as Texas!", says Juan, our office manager. But, these hundred degree days are keeping people indoors more this summer than ever before. It is making everyone take a really good look at their surroundings.
Jen and Corey have inspired us with thier design on the platform just inside our front door this month in a clean sophisticated look with punches of cool aquas and greens combined with the new neutral, GRAY. Gray is what's hot and what's happening! You wait and see if I am right. It is popping up with the most unusual color combinations. It is really new this time and not a retread of old colors.
The girls have used a cowhide in the grouping this month. Now, you may not think that is not worth mentioning but, there is a little tale in there. When the new cowhides came in, Jennifer, our little tree hugger and recycler would not touch them because they grossed her out! Now,not only is she touching them, she is featuring them in the display this month! It's so rewarding to see people stretch themselves and grow!
I love how the two of them used the grey flannel chair with the cowhide for a lesson in black and white with the greyscale. Then they used the new teal ceramic lamps with the lucite bases on the Antique White hand forged console. The artwork was a perfect choice because it once again has it's base in black and white. The mirrored fretwork pieces behind the chair add some glam and sparkle to the platform like the glint off of the water in the ocean.
I adore the new drink tables that are featured here as well. They are forged metal mini tables to hold just one drink! They come in one and two drink sizes. We have already had nineteen of them fly out of the store! Get them while they are hot! The last piece that I do want to draw your attention to is the small round end table on the right. When you are mixing finishes you can always revert to a spark of color in a solid. It really gives the whole grouping an updated look.
Come on in to our retail store, Details of Design in Annapolis, Md. and take a look around at the other displays. Maybe one of the groupings will inspire you to perk up the inside of your home while you are being held captive by this heat!
Our Tent Sale is coming up next month!!!! Don't forget to get on our mailing list so we will send you a postcard to let you know all of the "Details"!!!!
See you there, Gina