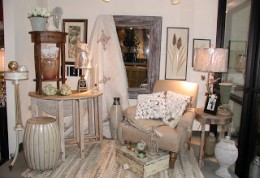 There is something to be said for that Cozy Winter Night cuddled up in front of the fire!
It is especially pleasing to have big thick wooly socks and a warm throw over you as you watch American Idol. This homey feeling has turned into the big design style of "Shabby Chic." It includes all of the distressed wood finishes, the chenille fabrics, the time worn comfortable furniture that you will never part with as long as you live. What a wonderful stressless approach to design, one does feel right at home!
In our retail store, Details of Design, Jen and Corey have gathered the elements needed in the store to make a display to show you the way to pull the look together. They have used a nifty drop leaf table that does double duty as a console table against the wall or as a dining table when the leaves are up. On the floor they have used a new upbeat version of a braided rug. This one is woven with a chenille yarn to give us a warm fuzzy feel! Some of the artwork they used is framed pressed botanicals. They included accent tables and pottery pieces with unique finishes and lamps with a bit of whimsey.
So, as you can see, real "Luxury" stems from real "Comfort"!