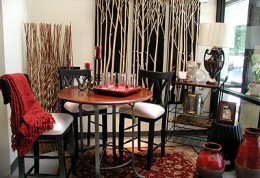 Fall In Love With Our Design Blog!
I love Fall! All the trees are so beautiful and the leaves are cascading to the ground. The weather could not be better here in Annapolis!
If not, just wait a day.
Jen and Corey have set the scene for this month's vignette as the beginning of indoor entertainment. With the change of season we need to get creative and pull together the perfect food and wine and be a bit social. They began their display with a pub height table and barstools. Your friends will love getting together in your eat-in kitchen or your Great Room with the new pub set; it makes you feel as though you are out for the night. I'm sure it's the altitude!
The red and black color scheme is set off by the carved wood tree panels that they used as a backdrop to their grouping. The panels are easy to hang and suprisingly very light weight. If you are frozen with indecision on how to start your next project; try our ebony tree panels and go from there. Corey and Jen then accessorized with the red pottery, the hand knotted oriental rug on the floor, and the hand etched fish glasses. These glasses are for all of your friends that drink like fish! (Keep that in mind for Christmas!) Oops, Christmas,…that slipped out, it must have been my inner voice!
I guess I have the color of red on my brain this month.
I just finished a designing a Master Bedroom for a client in downtown Annapolis. This is the grouping in front of the television. See below: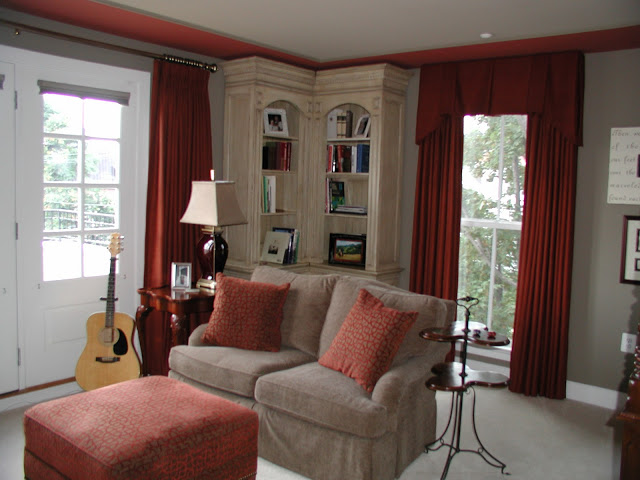 I love taupe so much, I used to tell people it was my middle name. (No one knew what the heck I was talking about.) So, anyway when we settled on the taupe and red color scheme it was right up my alley! We added the moldings on the ceiling and painted, reupholstered the ottoman, installed new window treatments, added a new sofa, pillows and end tables, and installed some wall units. The wall units are my favorite. They hold a lot of books and on the wall that you can not see there is a three piece wall unit for the TV.
There now you can see it! I apologize for the dark photo, I'll try and do better.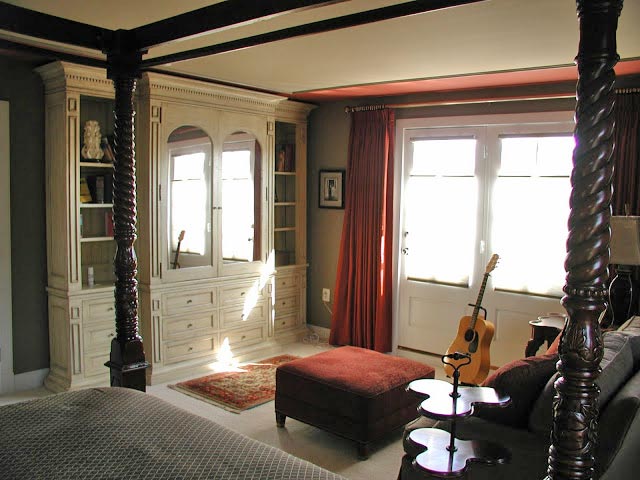 I hope that you liked our Fall in love with our design blog issue. Please click on become a follower on the left column of this page and also feel free to contact us for your next project. Call Jen and Corey if you have a smaller project and call me if you have an out and out, design dilemma! — Gina