What inspires you? What do you find yourself drawn to visually? These may seem like lofty questions that you only ask when attending an art exhibit.  However, they are questions that are essential to creating a space that feels like home rather than just a well decorated house.  To quote designer Lorinda Mamo, "Every great design begins with an even better story."  When we have at least one significant piece in our space, something that has a connection to a great story or something that speaks to us uniquely, then we can begin the journey towards a space that is both comfortable and energizing.

As is often the case for those of us that call Annapolis home, we find our inspiration in the wonder of nature that comprises this coastal area.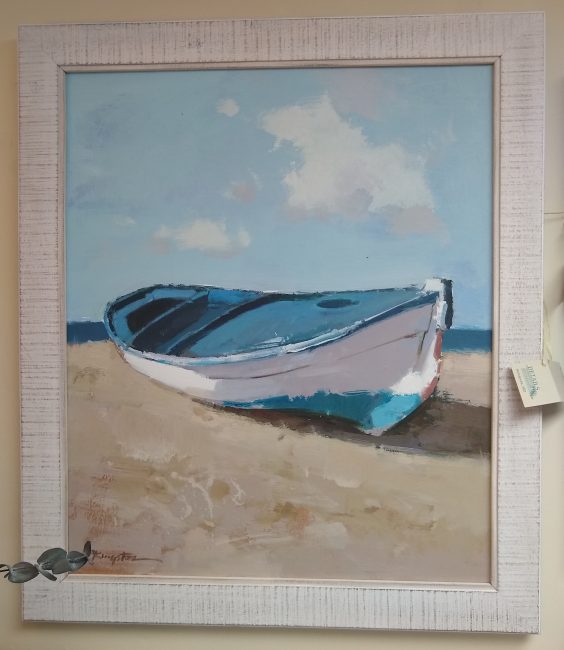 This beautiful oil painting of a well-worn boat resting against the warm sand along the coast is part of the motivation for our most recent store vignette.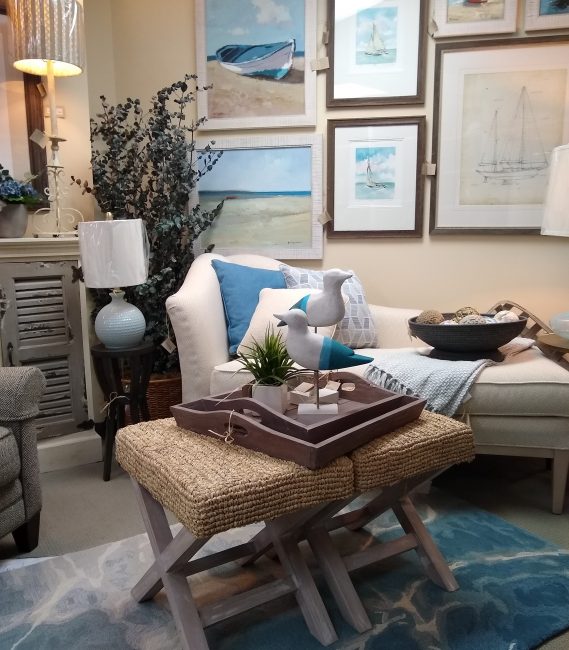 Drawing from both the colors and the emotions of this piece, along with her sister pieces, we created a cozy nook that is both warm and inviting as well as playful and bold.  The comforting warmth of the creams and taupes are the anchoring base of this design.  Layered in are some soft gray tones that keep the mood light and refreshing.  Finishing it off with some joyful pops of cerulean blue adds the playful excitement and energy that brings this vignette to life.
So, don't hesitate to turn towards a little bit of introspection and seek out that spark of creativity in your life. In the words of the amazing Helen Keller, "The best and most beautiful things in the world cannot be seen or even touched. They must be felt with the heart." On this Valentine's Day we encourage you to find what you love and use that to move forward in inspiration. Our design team here at Details would love to support you along your design journey with helpful tips and tricks as well as a wonderous array of furniture and décor that is sure to awaken your inner designer.