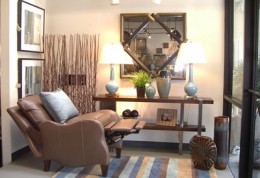 Kick Back and Enjoy Life!
A Great lookling Chair That's a Recliner!
It's that time of year when you lose your husband to the Fall Football Game on television. The leaves are swirling down from the autumn cover outside. He really should be out there in the sunshine and be raking up your yard, but, there he is, in front of the TV for hours. Well, he might as well look good.
Go ahead and surprise him this Fall with a comfy leather chair that looks good with him in it. He can be styling while he eats those taco chips!
Corey and Jen have pulled off another wonderful display in our store with
the starter piece to the design being the leather recliner in the sumptuous taupe leather. They added a lot of color when they added the boldly stripe rug in blue, teal, brown and gold. The whole display shows you how easily a room can be pulled together. They accesssorized the space with a graphicly bold mirror over the steel and plank wood console and added a couple of abstract art pieces on the adjoining side wall. I love the free standing bunches of sticks for the corner.
They add a bit of whimsey and fill the corner at the same time.
For the month of November we are going to offer clients a walk- in Design Service. This is for all of you that just can not figure out what is wrong with your room or how to fix it. Take a photo of your design dilemma and bring the photo in and show it to Jen. Take dimensions of the room so she will know how large the room is and mark off the doorways and windows on your sketch so she can establish the way the room traffics. If you have any samples of the fabrics on the pieces that you want to keep in the room bring them along. The more information you bring to the table the more successful the space will be. Then give her a chance to work on a few suggestions and when you come back she can brainstorm a few ideas with you.
Let's get those houses ready for the holidays!!!!
Gina Fitzsimmons, ASID