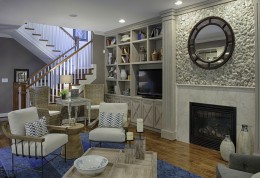 MD Green Show Home is Extended
The Interior Designers in Annapolis were glad to hear that the Maryland Green designer Show Home is going to be extended to Sunday, December 16th.
This will enable all the people that wanted to visit the Show Home but have had trouble with Hurricane Sandy and other holiday issues to still be able to go and show support for the two great charities, The Chesapeake Hospice and The Make a Wish Foundation.
The Show House is open on Thursday- Sunday, 10-5, except Thanksgiving Day.
The admission price is $20.00 per person
We at Fitzsimmons Design have really had the best time designing the Living room and Kitchen area of the Show Home. We have met so many fun people that volunteer for these two charities. Also we want to say a few words about the builder, Mike Baldwin. He is one of the most dedicated people we have met. He turns out a beautiful home with top knotch quality with his easy going personality.