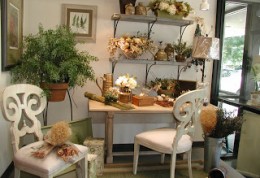 Permanent Florals will Prolong Summer!!!
Interior Design in Annapolis has really picked up as we come to the end of summer. It is sad in a way, everything is going by the wayside. The gals in Details, Corey and Jennifer have come up with a great display to prolong summer!
The display that they tackled for this month incorporates many permanent floral arrangements to perk up your interior spaces now that the fall is fast upon us. They used a drop leaf table that can be set up with one leaf up to give you plenty of hobby room in a tight space in your home. Over top they used these very cool galvanized tray shelves with brackets for extra storage. I love the chairs that they used. Some people call them butterfly chairs; they are really from the Bedemeier style.
We are most proud of our Permanent florals. We hunt through 15-20 different manufacturers on a regular basis to find the most realistic looking florals. We are really picky!!! We find the best pricing as well! If you get a chance please stop in and pick a fresh arrangement for your table. See below for some of our favorites!
On another note…..September 17th is the big once a year blow-out Tent Sale. We have had people call us everyday since August trying to find out the date so they will be in town. If you are not on our mailing list please give us a call or contact us.
And remember to stop and smell the roses before they are all gone!