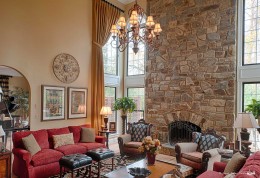 The new space plan that Fitzsimmons Design came up with at Aisquith Oaks was very functional. That's where we started with our design concept for the space. The antique pair of Gothic Chairs by the fireplace were reupholstered with attitude. If you have old chairs like this, have some fun with them! We selected 4 different fabrics for the chairs to coordinate with the large scale pattern in the rug. Comfy sofas in red completed the grouping. We also went into a minimalist mode and only used two drapery panels for the four windows. It prevented the room from being closed in too much and kept an open and airy feeling.
The client's love of black accents led to painting all of the doors and windows in the home in black paint. It had a very elegant look leaving the surrounding moldings in white.
We freshened up the kitchen by painting her existing cabinets, adding new hardware, adding new granite counter tops, new window valance, and painted the island black to help balance the black fronted appliances.
Interior Designer, Gina Fitzsimmons, ASID, NKBA