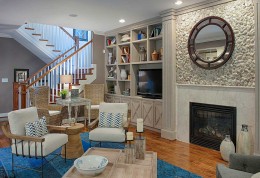 Maryland Green Show House
Fitzsimmons Design was selected to do the Living Room of the 2012 Designer Show Home. The Green aspect of the home really intrigued us. We were a month into the process when another Interior Designer that was designing the adjoining Kitchen and Eat-in area had to pull out of the show house. We stepped up to the plate and agreed to do the kitchen since it felt all like one huge open floor plan. The Tidewater Home designed by Cathy Purple Cherry brought all sorts of ideas to mind. We decided since it was a Chesapeake sort of regional style we would encrust the fireplace with Oyster shells instead of stone. They were delicious, every one of them!
The custom built-ins completed our focal wall of the Living Room. We designed them using 100 year old wood recycled from a warehouse in Baltimore. We also used the recycled wood as the columns at the four corner of our kitchen island to tie the rooms together more.
We used a eco-friendly furniture manufacturer from North Carolina for the upholstery in the room. The rug was unique because it was made from old oriental rugs that were sewn together in a patchwork style and then over-dyed in cobalt blue. Each patch took the dye in a different way. We used renewable rattan and recycled wood for our accent pieces.
The kitchen was designed around the focal point of the cooking hearth and was emphasized by changing the color of the perimeter cabinets to a stone grey so they would recede in importance in the design. The counter tops were made from recycled porcelain products like old tubs and sinks, recycled tile, mirror and glass. The material was ground up and recomposited.
Interior Designer, Gina Fitzsimmons, ASID, NKBA