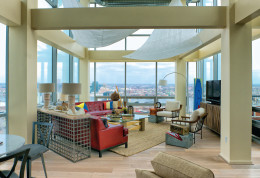 Silo Point Baltimore Symphony Show House
After being selected to design a penthouse condo on the 23rd and 24th floors of an old Gain Silo built in 1923 overlooking the harbor, the design took a nautical turn because of the surrounding water views. The two story room had three sides of glass, floor to ceiling.
One of the challenges was to give the great room a more human scale and make it contemporary, comfortable and inviting. Another challenge was to raise money for a worthy charity and entertain the attendees of the show house by creating a space that had good design ideas for the viewers to adapt to their own homes.
We arranged the large room to have three seating groups. The main seating group incorporated a TV. The furniture was set on a diagonal to allow the public to walk up to the windows to gaze out at the 270 degree view. The pub table was just outside the wet bar with four stools to enjoy a beverage while gazing out and the more intimate grouping of a chaise and a swivel chair provide an area to read a good novel.
Interior Designer, Gina Fitzsimmons, ASID, NKBA