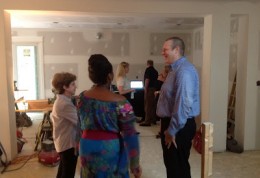 Press Party: MD Green Show Home
The Press Party at the Maryland Green Show Home was held on September 6th on the property in Gambrills. The Designers participating in the Show Home were stage front for question and answer periods.
Robert Andrew's kindly donated make-overs for the designers before they had their headshots taken by Jason Putsche for the brochure. "It really was a fun morning of being pampered" said Gina Fitzsimmons.
Kymberly Taylor and Robert Haywood from Annapolis Home magazine were interviewing the designers as well as Mary Ann Treger from Annapolis Lifestyle. All of the Designers had their concept boards on display in their rooms and were ready to give insight into their "green" spaces.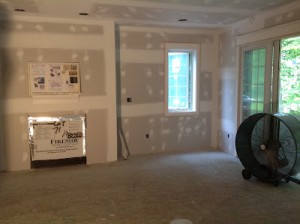 As you can see the Living room has just been drywalled. We wanted to keep you updated as to the progress. The Opening date is now September 29th. The date has slipped just a bit as to the availability of specially designated wood products that have been certified as "green" material". In order to get the home certified with LEEDS the materials must be certified. The charity sponsers of the home are Chesapeake Hospice and The Make-A-Wish Foundation.