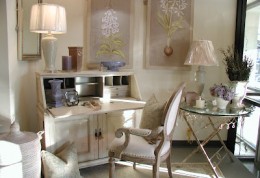 Spring Bulbs, and less clutter!
The display platform this month in Details of Design, in Annapolis got it's inspiration from the divine weather we have been having. Jennifer and Corey have started their display with the new drop leaf desk we had trucked in. It is a beautiful distressed painted finish with a driftwood interior. The pairing with a driftwood framed french chair was absolutely perfect. Keep in mind the idea behind a drop leaf desk is the ability to hide all of that stacked up paperwork and clutter. If you are a hoarder consider the drop leaf concept.
The artwork behind the desk is two hand painted Spring botanicals on linen fabric. The pale violet bulbs have a fresh, crisp look. This is one case where art can provide a wonderful backdrop for a furniture grouping without having to be a serious piece of art. Go for the fresh appealing look the group evokes!
We have a 4 x6 rug on the floor that just angles under the desk. The round french wire garden table completes the grouping with it's antique painted finish.
Take in a photo of a corner in your home and get in contact with Jennifer if you would like to brainstorm some ideas. Freshen up this Spring!