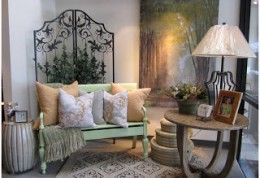 Details of Design, voted one of the top Furniture stores in Annapolis, Md. has revamped their floor with springey ideas for your home.
The weather is just beautiful and if you have to be inside then, lighten up! Get the cob webs out!
Design can be fun when you take your existing sofa and change the pillows for a different look. Details also has great inexpensive indoor/ outdoor rugs and samples available to alternate with that heavy oriental rug that has been down all winter. "They are really good looking rugs and you would never guess by looking at them that you can use them on a screened in porch!" says Jennifer Naperlaski, Details Store Manager. "We also have some perky spring florals in to spruce up the center of your breakfast table." Jennifer added.
Do not let the change of seasons boggle your mind on how to lighten up your spaces. Snap a couple of photos and bring them in to Jennifer and she can make some suggestions for you to implement in your home.