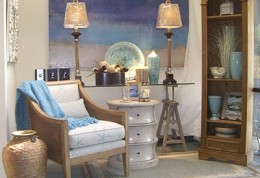 The sweet memories of summer like the breeze coming through the window, gently blowing the sheer curtains remind us all of simpler times. It can be a fun project to capture that feeling again in your own home! We often have clients ask us to design a room or a part of their home around a pleasant time or a remembered experience.
The background is very important. If you do not care to paint a new color just hang an oversized canvas like we have done here. It provokes the feeling of the ocean with just a few patches of color. Recover a chair with a starfish pattern or another fun fabric. It will give that chair a new life! Add a colorful throw for the days when the air conditioning is too chilly! When you are punching up a room with large areas of color to give the room a fresh appearance, don't forget the rug. It is probably one of the largest areas in square footage in the room. The color, texture and pattern that can enhance your new look, are limitless.
Fill in with the toys of decorating, The Accessories! What fun you can have by grouping colorful vases, chargers, shells to personalize your space. Drop by and see us at our retail store Details of Design at 918 Bay Ridge Road in Annapolis for a fun trip to hunt and gather those perfect pieces.