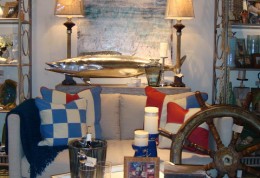 The Annapolis Boat Show is Coming!
Summer is over and the Annapolis boat Show will be here soon. So, for all of you that are ready to perk up the Family Room here are a few "Details of Design" to inspire you in those creative moments.
It's always easier to have a starting point, let's start with a colorful piece of art. When you start with a large enough piece of art you can sometimes just skip painting the walls. That's called instant gratification!
To highlight the new focal point for your Family Room let's install a pair of rope wrapped candlestick lamps to shed some light on the subject. Going with this "Chesapeake Cozy" grouping we can throw in some pillows in signal flag motif in bright reds and blues. Now you can see where we are going with this. The nautical look is bright and gender neutral for the whole family to enjoy. We have utilized a great 36″ round coffee table that is a sort of inlaid compass rose detail in the driftwood finished top. Our new baracuda in a nickel finish can sit on a console or actually hang on the wall. Charlie the tuna has nothing on him!
To complete our vignette we have propped up a ship's wheel in our shot that can hang on an adjoining wall.
The Annapolis Home has never looked so good! Stop in at our retail Store, "Details od Design" in Annapolis if you are going to attend the boat show and take home a souvenir that you can really use in your home.
To give you an idea of our pricing on some of the items in the photo, please see below:
Canvas Signal Flag Pillows $88.00-$125.00
Nickel finished Baracuda $598.00
Ship's Wheel $288.00
Rope Wrapped Candlestick Lamps @233.00 ea.
Bone Ice Bucket $213.00
Distressed White Tray $238.00
Driftwood Finished Cocktail Table $498.00
If we have missed out an item that you have your eye on, please give us a call at 410-269-1965 or email us at gina@fitzsimmonsdesign.com