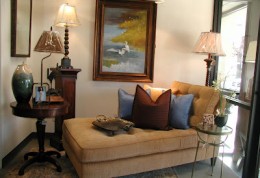 The Best Seat in the House!
While the weather outside is stormy…Why not cozy up your house? Find an area in your home to use a chaise! It is the best piece of furniture made, in my opinion. I have installed chaises in so many of my client's homes and they always tell me later on that it is the one piece of furniture that the family members fight over. I can just  imagine the clever ways one might outsmart another to claim the prized seat as your own.
Starting with,"The phone is for you!" all the way to "I think someone just hit your car!!!". The posibilities are endless!
Also, when you are creating this cozy cocoon-like area, be sure and hang a nice piece of art that you love. It can be an original oil painting like we have here in our vignette. I like to use landscapes the best. It is always easier to gaze off into the distance while looking at a landscape.
And the third and final thing is buy a nice lamp. It should have a three way bulb in it for when it starts to get dark when you have wiled your day away reading the latest novel. Come on in to our store and we can help you select the basic three items that you need for the best seat in the house!
Here are some other photos of  some of my favorite chaise placements in my client's homes….