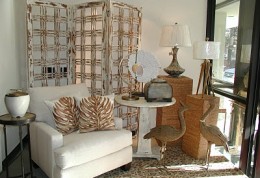 By now everyone is getting Cabin Fever. We are all thinking of where to go for our winter vacation. Whether it's Barbados, Palm Beach or Hawaii"s ocean breezes that make you happy, it's time to bring that look home!
Add accessories to make that neutral upholstery grouping in your great room your favorite place to be!
Add a little mood to the room with a folding screen for a backdrop. Pillows are an affordable way to add contrast. Follow through with a few shells and add the rust egrets, your two new best friends and see how much more welcoming your home can be. It is so true, it's all in the details.